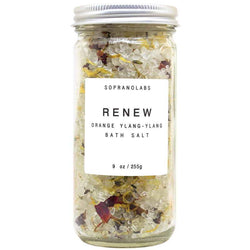 SopranoLabs
Renew Bath Salt
Renew Bath Salt is a luxurious bath soak made with four salt varieties and Lavender, Rose and Calendula petals. The delicate scent of Rose, Sweet Orange & Ylang-Ylang Essential Oils ease the mind, body & spirit. Epsom salt aids in calming muscles and eliminating toxins. Bathing in Dead Sea Salts encourages dermal absorption of minerals and stimulates blood circulation. Natural plant essential oils provide a safe, subtle fragrance without chemical enhancers.
DIRECTIONS: Add about 1/4 of the bottle per bath and let dissolve for a minute or two before enjoying the aroma experience.
The listing is for one glass bottle of 9 Oz (255 g) Roses, Lavender and Calendula infused Renew Bath Salt with aluminum cap top.