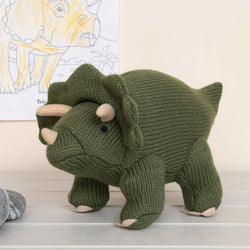 Best Years Ltd
Triceratops Dinosaur Plush Toy
This knitted triceratops dinosaur from Best Years Ltd is made of ethically sourced acrylic. It's the perfect gift for the dinosaur lover in your life, serving as a cute decoration and something to play with. And don't worry when it comes to washing - you can just throw it in the machine! 
Age Recommendation: 0 months and up
Dimensions: 6.3" x 3.5"